NorthWestern Energy continues its crusade against renewables. The developer of the Broadview Solar Facility – outside of Billings – hoped to provide clean, cheap energy to Montana by selling solar power plus energy storage capacity to NorthWestern. This type of renewable project typically requires the developer to work with the regulated utility to negotiate a contract. Broadview brought its innovative solar plus storage project to NorthWestern believing that it met the qualifications for selling the project's power to the utility, but NorthWestern rejected its project. Feeling that this decision was unjustified and counter to federal regulations, Broadview appealed NorthWestern's decision to the Federal Energy Regulatory Commission (FERC).
FERC is governed by a five-member board appointed by the President and confirmed by the Senate. Not surprisingly, this September the Trump appointees overturned 40 years of precedent at NorthWestern's urging and ruled that the Broadview facility did not fit the federal requirements.
FERC's order dealt a serious blow to the ability of developers to sell clean energy as well as clean energy plus storage to utilities. The irony of NorthWestern's position and FERC's ruling is that NorthWestern constantly argues that solar power doesn't always produce energy and NorthWestern needs power-on-demand. But this project was designed so that it could provide 80 megawatts of power on a consistent basis (80 megawatts is the legal limit that energy projects such as Broadview can sell to a utility). However, NorthWestern said that even though physical constraints limit the project to providing 80 megawatts of power to the grid, the fact that it has the potential to generate more than 80 megawatts disqualifies it from receiving a contract with NorthWestern.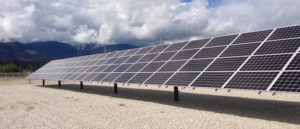 NorthWestern talks out of both sides of its mouth to avoid using clean energy and storage. Instead, it has its sights set on more plants burning fracked natural gas and on the continued burning of coal and now it has a Trump-appointed FERC willing to go along with its outdated and destructive thinking.