By Katy Spence and Melissa Nootz
It's MEIC's first session with a fully-dedicated advocacy team, and what a difference it makes! During 2021, our MEIC team (and everyone else) was learning what a pandemic session looked like. It was new, but we made it through together.
This year, our team was staggered by the work of our members and the degree to which you hung in there with us and supported us. When we shared information about different ways to advocate before the session, there were a variety of options, any of which would have been impactful on its own. But you all showed up again and again, for MEIC and for the environment – thank you.
Online Advocacy
Our online Bill Tracker and Action Center continues to be popular for new and seasoned MEIC supporters alike. This session, MEIC featured 54 bills on our tracker (with many more being tracked behind the scenes). We had 74 actions that resulted in 87,000 emailed messages from more than 800 people in 32 counties.
And this doesn't even count those messages and phone calls through the Legislature's web messaging tool and official phone line, which you can view online: https://leg.mt.gov/bills/2023/reports/messaging_bill_report.pdf
An average of 53 people joined our online legislative update call each week, and we emailed 38 newsletters and action alerts were delivered to thousands of people through the session. Social media followers shared our online posts and updates to further our reach.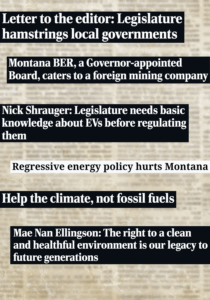 In the Papers
When we offered to work with you on Letters to the Editor and Opinion Editorials, you all delivered. We helped edit dozens of opinion pieces for submission and publication around the state, and we saw many more that our members submitted independently (see image). These crucial pieces help people and legislators in your community know what they should be paying attention to!
What impressed us is that many of these pieces didn't need much in the way of editing or input from MEIC – many members are elevating their advocacy on their own, and we love to see it.
Testimony
If you weren't engaging online, you were showing up in person. MEIC staffers were in countless hearings this session, and they were made all the better when we were in the company of members and allies.
Notable examples include the hearings for SB 557 and HB 971, the two horrible MEPA bills. Opponents outnumbered proponents in these hearings 10-1, even with very little prior notice.
Testimonies were expertly crafted, timely, direct, and heartfelt. MEIC members got the facts clearly  stated and personal impacts related even while under time constraints. Even when hearings were scheduled and rescheduled, you showed up on these and other bills, sticking it out for long hearings and tedious Q&A.
Legislative Fundraising
Of course, one important way to engage in the session is ensure that MEIC is funded to do so! This year, our Legislative fundraising goal was $20,000, and our generous supporters (like you!) donated almost $30,000. Thank you!
These funds helped pay our staff salaries working long nights and weekends of the session, as well as supported our communications work. Our work doesn't end at sine die, and this support will fund all the work that arises because of this session.
Now That It's Over
Now that the session is over, MEIC staff is taking a break, and we hope you are, too. This session was hard – one of the hardest our staff can remember. Heartless bills, tactless legislators, and outright attacks on democracy can make it feel like nothing is safe. On top of that, climate and environmental work is highly prone to burnout, so we've found some advice and resources to help you recover.
Take time to rest.

The constant

go-go-go

of the session is unhealthy and unsustainable. Our staff is taking time to be outdoors, sleep in, play with our families and pets, and work in our gardens – we hope you have some restorative time planned, too.

Consume affirming content.

Sometimes, nothing helps more than hearing that someone else knows what you're going through, whether it's advocacy fatigue, climate grief, or frustration with inaction. Check out our staff recommendations for content that we recommend:

www.meic.org/staff-picks

Spend time with loved ones outside.

It's important to remember why we do the work: to ensure a livable world for this and future generations. Recreating or being outdoors is good for the body and the soul, and it helps us stay centered when things are tough or tiring.
During the session, nothing was quite as affirming to our team as seeing MEIC members tenaciously and repeatedly taking actions both inside and outside the Capitol. We are grateful to be in this work together and couldn't do it without each of you. There will be more work to be done, but until then, we hope you are able to take a breath, hug a loved one, and eat something delicious.
This article was published in the June 2023 issue of Down To Earth.