by Brian Fadie (3/10/20)
Suggested additional reading:

In late 2019, hundreds of Montanans attended Public Service Commission (PSC) listening sessions to push back on NorthWestern Energy's latest 20-year "Resource Plan." Hundreds more sent the PSC written comments noting that NorthWestern's plan – which calls for building a fleet of new fracked gas plants, continued reliance on coal, and no new renewable energy – contained significant flaws in its analysis. There were calls for stronger PSC oversight of NorthWestern because the plan looked to have serious flaws. Now, it turns out, Montanans were right.
In mid-February 2020, a PSC-commissioned report by the independent consulting group Synapse Energy Economics found that NorthWestern has significantly put its proverbial thumb on the scale against renewable energy and in favor of fossil fuels when conducting its analysis.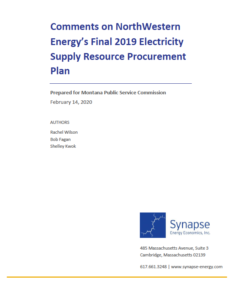 The PSC hired Synapse to review NorthWestern's Resource Plan to help it analyze the plan (the PSC does not approve or deny the plan, but issues comments that should influence NorthWestern's decisions on acquiring electricity resources). Clean energy advocates were not involved with Synapse's review in any way.
NorthWestern often tries to portray its analysis as a purely numbers-based process that is therefore impartial and should be trusted. It argues that a computer model selects the best power plants, not NorthWestern. But as the old saying goes: garbage in, garbage out. If you feed faulty numbers into a computer, you'll end up with faulty results.
The Synapse report concludes that NorthWestern not only fed faulty numbers into its computer model (PowerSimm), but it also put multiple restrictions on the computer analysis such that it was "a foregone conclusion" that the Resource Plan would call for building new gas plants and for keeping Colstrip Unit 4 operating for 20 more years.
The report contains too many substantial criticisms to list all of them here. What follows are some of the more egregious ones, along with some commentary. All emphasis is added. (Read the full report here).
"…NorthWestern concluded in the Final Plan that the best way to meet its capacity deficit and ensure resource adequacy is to procure hundreds of MW of "flexible" gas-fired generation in the form of RICE units. This is essentially a foregone conclusion given certain of the input assumptions and constraints present in the PowerSimm model that favor thermal resources over renewables and storage." (Page 3)
Commentary: PowerSimm is the name of NorthWestern's computer modeling software program that was used in this and other NorthWestern proceedings before the PSC. Synapse found that NorthWestern limited the computer model to such a degree that the model had no choice but to choose gas plants over clean energy.
"Second, the low capacity credit for renewable resources, i.e., the resource's contribution to peak, and the higher capital cost of renewables practically guarantees that the PowerSimm model will not select these resources as part of a least-cost resource portfolio under reference assumptions." (Page 3)
Commentary: The numbers NorthWestern tells its computer to use for how much energy wind and solar can produce, especially during peak demand hours, are far lower than what real-world data has demonstrated. Conversely, the numbers it uses for the cost to install wind and solar are far higher than industry standards.
"In PowerSimm, projects can be defined as new assets, existing assets, or retirement options. However, in NorthWestern's model, all resources were set up as either new or existing assets, thus preventing the model from being able to select a unit for retirement if its economics are poor relative to other units over the course of the planning period. […] This is important with respect to the operation of the Colstrip units. They are the most expensive resource in NorthWestern's resource portfolio, as shown in Figure 7, inclusive of all costs collected in rates." (Page 17)
Commentary: NorthWestern prevented the computer model from even considering whether retiring Colstrip would save ratepayers money.
"First, NorthWestern did not allow for market capacity purchases in its modeling runs, which leads PowerSimm to build 985 MW of gas-fired generation over the analysis period in the Base portfolio. Inclusion of an option to purchase capacity from the market likely would have led to a smaller capacity build and lower revenue requirement in the resulting resource portfolio." (Page 3)
Commentary: Because NorthWestern did not allow its computers to consider buying energy on the open market, the computer concluded the "best" option was for a large number of new gas plants to be built. Keep in mind, utilities such as NorthWestern make their biggest profits on new assets it builds or acquires, such as power plants.
There are many more findings like this, including that NorthWestern said it considered whether fracked gas plants would be economical in a high gas price future, but Synapse found this analysis did not actually take place.
It's hard to overstate the importance of Synapse's report. Because NorthWestern constantly submits evidence to the PSC based on its internal computer model, PowerSimm, these findings will impact almost every case MEIC is involved in at the PSC, including the proposed purchase of a larger share of Colstrip Unit 4, NorthWestern's attempt to build gas plants, the "Qualifying Facilities" (i.e., PURPA) wind and solar projects, and more.
As of this writing the PSC has not reacted to the Synapse report. However, MEIC will make sure this information informs the decision making by the PSC, legislators, and others going forward.