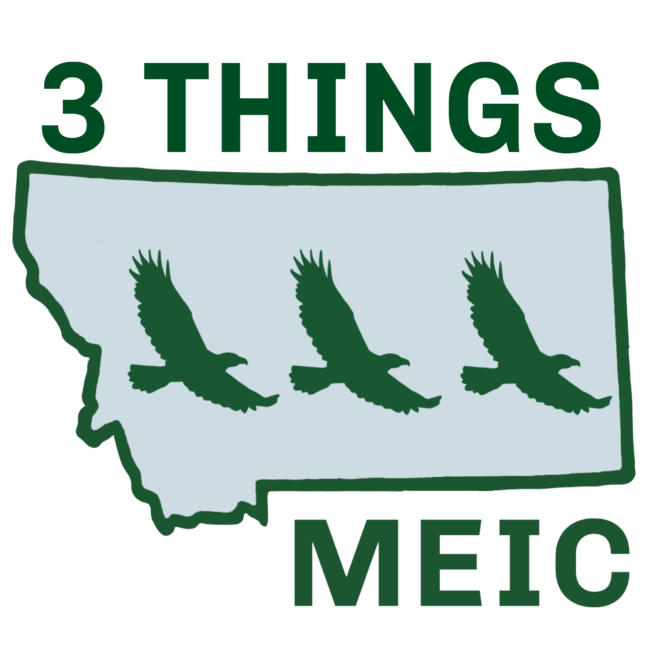 MEIC regularly sends out things individuals can do each week to help Montana's environment. Please feel free to share these with others. Together, we can make a difference!
Want to receive "3 Things" in your email inbox each week? Sign up here!
---
1. Two Local Climate Actions (Helena and Great Falls)
If you're in Helena or Great Falls, see below for two local climate actions.
Great Falls (TONIGHT – Tues, Feb. 18th at 7pm)
The Great Falls City Commission is voting tonight (Feb. 18th at 7pm) on a resolution that would establish an "Energy Response Task Force," which among other things would evaluate the City's energy use and propose a plan to improve energy conservation. Location: Civic Center, Commission Chambers (2 Park Drive South).
Helena (Mon, Feb 24th at 6pm)
The Helena City Commission will vote on whether to adopt a goal of Helena being powered by 100% clean, renewable electricity by 2030. It would help Helena place renewed emphasis on renewable energy and energy efficiency and send a clear signal to NorthWestern Energy, the legislature, PSC, and others about the direction Montanans want to go. Please consider attending to give public comment in support!
When: February 24th. Meeting begins at 6pm
Where: City County Building (316 N. Park). Commission Chambers, 3rd floor.
More details and background info here.
---
2. If You're in Helena, attend the 50/50 On the Water Fly Fishing Film Tour and Learn About the Smith River Mine
Pat Barnes Trout Unlimited and Last Chance Fly Gals will be hosting a Fly Fishing Film Tour show at the Grandstreet Theatre on Friday, February 21st from 7-9. Tickets are $15 at Headhunters Fly Shop (Craig), Crosscurrents Fly Shop (Helena), Montana Fly Goods (Helena), and Wolf Creek Angler (Wolf Creek), and $20 at the door. The Orvis "50/50 on the Water" Film Tour features 12 fly-fishing films by and about female anglers!
The 50/50 on the Water campaign aims to inspire more women to get out on the water and discover the joys of fly-fishing. By breaking down some of the barriers that keep women from enjoying time on the stream, we can add new perspectives and bring new voices into the sport. And if we are going to protect what we love through conservation efforts, the more voices the better. Watch the 50/50 on the Water Film Tour Trailer here.
One of the featured films is entitled Not Mine, Ours. The film explores the Smith River and the proposed mine at its headwaters, a priority campaign for MEIC. Learn more at www.SaveOurSmith.com.

---
3. Need to Register Your Vehicle? Sign Up for a Montana License Plate that Benefits MEIC
Help protect Montana's clean air and water by choosing a Montana license plate that benefits MEIC! With an initial extra cost of $40, and an annual renewal extra cost of $20, it's an easy way to support our important work. Your donation is tax deductible, and will be used to protect your right to a clean and healthful environment.
This plate funds non-partisan efforts to protect Montana's most precious resources: clean air and water. MEIC's mission is to uphold each Montana's Constitutional right to a clean and healthful environment. Proceeds from this plate help to preserve our state's natural beauty and public health for generations to come.
Visit your local DMV to get a plate, or contact MEIC's Mel Griffin at (406) 443-2520 to learn more.