By Jaci Webb, The Laurel Outlook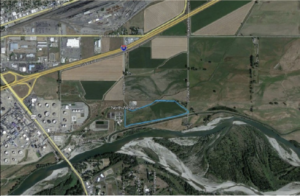 A group of Laurel citizens and environmental groups have asked a district court to clarify the municipal zoning authority for NorthWestern Energy's proposed gas-fired power plant near Laurel.
The lawsuit filed last month by Earthjustice on behalf of Northern Plains Resource Council, the Thiel Road Coalition and Montana Environmental Information Center, asks the court to clarify who has zoning jurisdiction over the parcel, either the City of Laurel of Yellowstone County. Mary Cochenour, senior attorney at the Northern Rockies Office of Earth Justice, told The Outlook that the three parties named in the complaint, including the City of Laurel, Yellowstone County and NorthWestern Energy, will have 21 days to respond after they are formally served with the complaint.