By Derf Johnson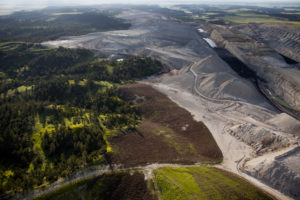 In a very important step toward protecting our climate, water quality, and the ability for the public to participate in governmental decision-making, MEIC was able to secure a stipulation against enforcement by the Montana Department of Environmental Quality (DEQ) regarding two very bad coal mining bills that were set to become law immediately after their passage during the 2023 Legislative Session. This is a crucial victory; if these laws were to go into effect, they would seriously undermine water quality and quantity protections for sensitive prairie streams, and prohibit the public from seeking judicial redress when the government or coal mining corporations break the law. While the fight is not over to prevent these laws from going into effect (it is a temporary stipulation against their enforcement), we have a slight reprieve and can now focus our energies on the correct approval process, and hopefully beat back these weakened standards.
While the 2023 Montana Legislature was generally a bruiser for the environment, HB 576 and SB 392 were some of the more misguided laws signed by Gov. Greg Gianforte. These bills weaken Montana's coal mining laws, known as the Montana Surface and Underground Mine Reclamation Act (MSUMRA). These laws spell out the permitting, enforcement, and reclamation processes for coal mines in Montana. MSUMRA is modeled after — and must conform with — its federal counterpart, the Surface Mine Control and Reclamation Act (SMCRA). 
SMCRA was passed by Congress in the late 1970s to address the serious environmental and social harm being caused by coal strip mining. It not only established a set of federal environmental standards, but also established a permitting process that included public participation requirements. These standards are meant to assure that water and air quality are protected and that the public is adequately informed and consulted in advance of mine permitting decisions. As is typical with federal laws, SMCRA also allowed for states to assume responsibility for its implementation and enforcement, known as "primacy." Montana chose to implement the federal program with the passage of MSUMRA. However, in order for Montana to receive and maintain primacy, it must "implement, administer, enforce and maintain" its state program in accordance with SMCRA as well as regulations issued by the U.S. Office of Surface Mining (OSM). 
The Montana Legislature — never one to shy away from anti-federal sentiments — amended MSUMRA with two bills that contained provisions making them effective immediately. The first, HB 576 (Rep. Rhonda Knudsen, R-Culbertson) would weaken water quality protections for impacts that coal mines cause outside of the mine site. Specifically, HB 576 amended the definition of "material damage" – a critical component of assessing a mine's water quality impacts – to be more ambiguous and difficult to determine whether the mine would cause unnecessary pollution. 
The second, SB 392 (Sen. Steve Fitzpatrick, R-Great Falls), would require that individuals and organizations that challenge permitting decisions of coal mines under MSUMRA potentially assume the legal fees of coal companies and the government. This would basically put a giant padlock on the courthouse doors for individuals and organizations who are harmed by coal mining activity, as the risk associated with having to pay expensive industry lawyers would likely be too great to actually file a case. 
These laws contained immediate effective dates, meaning that the DEQ (the agency primarily responsible for implementation of MSUMRA) would be required to enforce them immediately. Fortunately, both SMCRA and OSM's implementing regulations require a much more stringent process before a state can amend its program. Most importantly, any substantive change to a state's program must undergo an approval process with OSM (and other relevant federal agencies) in advance of becoming effective and enforceable at the state level. 
Because the laws were obviously in conflict with SMRCA and OSM regulations in regard to the approval process, MEIC and our partners filed a federal lawsuit in June and a request for a temporary restraining order against DEQ to prohibit it from implementing or enforcing the new laws. Thankfully, in late June, the judge approved a stipulation between MEIC and DEQ to not "take any action to apply, effectuate, or enforce the provisions of HB 576 or SB 392" for seven months. This timeline mirrors the timeline required under federal regulations for approval of amendments to state programs. 
Now that the laws are temporarily suspended, they can be properly reviewed by federal authorities, and the public will have an opportunity to comment on the problematic aspects of these changes. An official comment period will begin once OSM publishes a notice in the federal register. Stay tuned and watch for an opportunity to voice your concerns, likely in future issues of Down to Earth and/or in MEIC's e-newsletter, 3 Things You Can Do. Sign up for our emailed action alerts at www.MEIC.org/take-action.
This article was published in the September 2023 issue of Down To Earth.