By Cari Kimball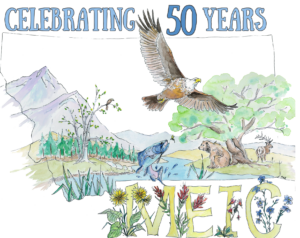 Thanks to Mel Griffin for our dreamy 50th Anniversary logo!
Wow – 50 years. MEIC's staff has been looking back at the history of the organization, sifting through boxes of old photos and historic newsletters, and speaking with some of the founders of our organization about how MEIC got its start. What a privilege it's been to reflect on our origin story and how we got where we are.
When we feel overwhelmed by the immensity of the challenges we face, we can look at how far we've come these past 50 year. This issue is full of victories and ongoing battles for the clean and healthful soul of Montana. We put many of these victories into a timeline on pg. 22, but not every discovery made the cut. For example, the timeline doesn't capture numerous rowdy patron outings, staff floats on the Missouri, or adventurous road trips to meet with our members. Neither does it reflect the tale of Nancy McLane and other volunteers running the mimeograph machine 'til their arms nearly fell off making copies of early issues of Down to Earth, or the time when Anne Hedges' son accidentally burst through a glass window at an MEIC holiday party.
On the more official end, MEIC has put up dozens of hurdles to stop damaging extraction projects and helped safeguard some of Montana's most beloved rivers and landscapes. We cannot do everything, but in Montana, where we have some of the planet's most awe-inspiring lands and waters and also a quarter of the nation's recoverable coal reserves, we can do something. And together? Oh boy, can we make a difference.
Our state faces enormous challenges, especially with the increasingly severe life- and landscape-altering impacts of climate change. Montana had the honor to be the first state to go to trial in a case where youth plaintiffs sued the state — and won! — for failing to take meaningful climate action (pg. 6).
Unfortunately, many people arrive at the conclusion that climate change and other environmental harms are too big and complex of problems to try to solve. Of course this is partially why MEIC was formed 50 years ago by Phil Tawney and Robin Tawney Nichols (pg. 20) and their friends and colleagues: to bring together a group of people who care deeply to work collectively.
In reviewing the ways that MEIC has had an impact, I'm left with a huge sense of gratitude and awe. Thank you, thank you – to our thoughtful, generous board members who donate their time and talent to support MEIC; to our brilliant staff who are pouring their intelligence and heart into MEIC's work; our partners who bring a diversity of perspectives, strategies, and expertise to the table; and our outstanding community of members and volunteers whose passion inspires us on a daily basis. Together, we are helping Montana become a better, brighter place. Read some encouraging thoughts and messages from our friends past and present on pg. 19. Our team today is so excited to invite the members of MEIC's community to help us write the next chapter of MEIC's history.
So cheers, y'all! Let's celebrate! MEIC has spent 50 YEARS upholding Montanans' right to a clean and healthful environment, and pushing back against polluting industries. If you believe that people come before profits, that we all have intrinsic rights to clean air and water, and that Montana's wild places and open spaces deserve protection, you belong with us. MEIC's community of change-makers and rabble-rousers is stronger because you're a part of it and dang, are we grateful.
This article was published in the September 2023 issue of Down To Earth.