by Michael Howell, Bitterroot Star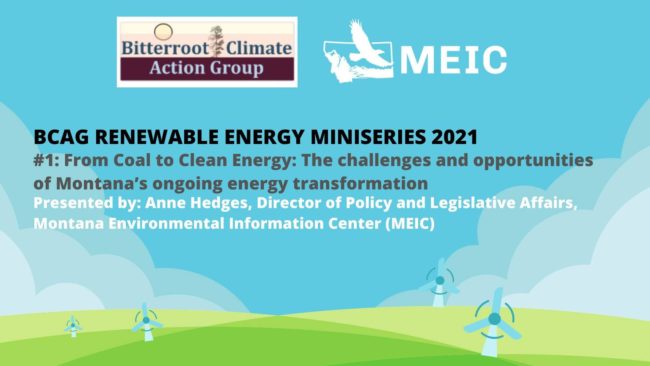 The Bitterroot Climate Action Group hosted a Zoom meeting last week featuring a presentation on climate change and the efforts to transition from fossil fuel sources to renewable energy sources like solar, wind and water. In her presentation, Anne Hedges, Director of Policy and Legislative Affairs at the Montana Environmental Information Center (MEIC), discussed Montana's fossil fuel-based energy grid and how a transfer to renewable energy sources is not only possible, but could also lead to cheaper electricity for Montana and the region.
Other states in the region, including the neighboring states of Washington, Oregon and Idaho who are tied to coal burning facilities in Colstrip, Montana by a major transmission line, have all adopted policies aimed at weaning their residents from fossil fuel generated electricity at some future date.