Oct 31, 2022
5:00 PM - 8:00 PM
Join MEIC at the Higgins St. Cambie Taphouse & Coffee in Missoula for games, costumes, candy, and fun! This is a family-friendly event and we welcome any and all to join us!
This event is also a fundraiser! Cambie is generously donating a portion of each drink sold between 5 and 8 pm to MEIC.
---
Oct 31, 2022
5:00 PM - 8:00 PM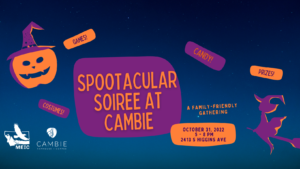 Cambie Taphouse + Coffee (on Higgins) is hosting a pint night for MEIC… but with a twist!
Join us Halloween night for a chill gathering, complete with costume contest, raffle prizes, games for your table, and (of course) candy!
It's the cozy Halloween gathering of your dreams, and Cambie is generously donating $1 from each drink to MEIC at the end of the night.
We'll see you there!
---
Have an event that you think may align with MEIC's mission? Contact us at meic@meic.org, and we will consider posting it to our events calendar.
Also check out the Conservation Calendar for more Montana events.