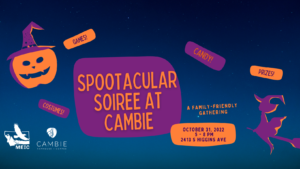 Cambie Taphouse + Coffee (on Higgins) is hosting a pint night for MEIC… but with a twist!
Join us Halloween night for a chill gathering, complete with costume contest, raffle prizes, games for your table, and (of course) candy!
It's the cozy Halloween gathering of your dreams, and Cambie is generously donating $1 from each drink to MEIC at the end of the night.
We'll see you there!