Click on this link to see the latest issue of Down to Earth.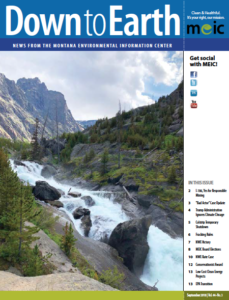 In this issue:
I-186, Yes for Responsible Mining
"Bad Actor" Case Update
Trump Administration Ignores Climate Change
Colstrip Temporary Shutdown
Fracking Rules
NWE Victory
MEIC Board Elections
NWE Rate Case
Conservationist Award
Low Cost Clean Energy Projects
EPA Transition
Would you like to receive future newsletters from MEIC? Sign up for MEIC's Action Alert Network!
This website post paid for by the Montana Environmental Information Center, 107 W. Lawrence St., #N-6, Helena, MT 59601.