By Tom Kuglin, Helena Independent Record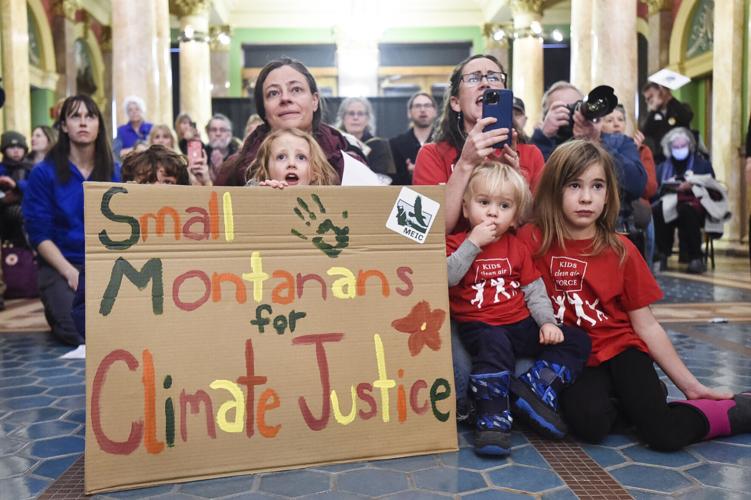 Under banners saying "Protect Our Home," climate change advocates rallied at the state Capitol Friday, blasting inaction on climate and demanding politicians move on solutions.
The Climate Advocacy Day featured a panel discussion with legislators, a climate fair and roundtable with activists, but it was a noon rally attended by nearly 300 people that anchored the event as attendees pushed their message of urgently needed action.
"We are here in our capitol because we know every person in Montana is going to be impacted by the climate crisis. It's happening already," said Winona Bateman with Families for a Livable Climate, one of the hosts of the event. "We're losing crops to high heat and drought, floods, wildfires and smoke are impacting families and business across the state."
The rally featured speakers from Montana's Native American tribes, environmental policy advocates, religious leaders and young Montanans concerned about the future. Many of the speakers pointed to Montana's constitutional guarantee of a clean and healthful environment, saying that current energy and pollution policies jeopardize those rights.
Amber Shaffer, community organizer with All Nations Health Center in Missoula, said the center teaches traditional practices that includes seeking out natural ingredients found in Montana's landscape. Acquiring those materials has become more difficult as weather extremes have made access difficult at times and some ingredients have become scarce.
"If we are going to continue teaching future generations of our ways, we need to step up and acknowledge that climate change is real and it is affecting us every day and that it will take all of us working together, across party lines and across races, to return the earth to the way it should be," she said.
Anne Hedges with the Montana Environmental Information Center criticized continued policies focused on fossil fuels in Montana, by the Montana Public Service Commission, Legislature, governor and utilities.
"We have the momentum but we don't have the time," she said. "We don't have time to pay millions of dollars to a utility to destroy the climate. We must demand change at every level of government. We must be loud, we must be insistent, we must be unified and we must hurry."