If you're feeling the weight of the latest Intergovernmental Panel on Climate Change (IPCC) report, you're not alone. The heavy report seems compounded by a hot, smoky, dry summer, increasing Covid cases that limit our ability to meet with you, and political chasms that seem unbridgeable, especially in the wake of one of the hardest legislative sessions Montana has ever seen. 
If you're feeling all of that, we're right there with you.
That's why we want to take a few minutes to talk about what the latest IPCC report means for us Montanans.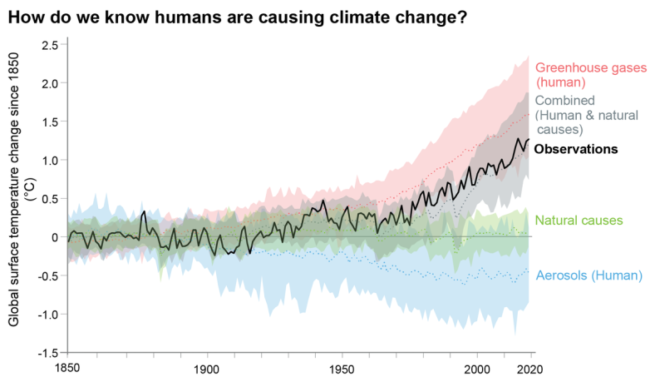 The nearly 4,000-page IPCC report cites about 14,000 studies and was agreed upon by 195 countries. It has a couple of clear, big picture takeaways:
Climate change is real and "unequivocally" human-caused. 
We're already seeing its impacts in every region around the world.
The impacts can get much, much worse if we continue on the path we're on.
This is honestly devastating news, and it's okay to be upset. Many of us have been advocating for climate action for years. During a year that's been one blow after another, it's okay to give yourself space to mourn.

However, it's so important to note that climate doomism is not the answer. If we let ourselves lose hope and drive, the fossil fuel companies win.
Which is why there's another takeaway from the report that's critical to note:
We still have time to mitigate the worst impacts of the climate crisis in our lifetime.
Read that again: We still have time. And what we do right now matters.
According to the report, if countries worked together to shift away from fossil fuels and stop adding carbon dioxide to the atmosphere by 2050, it could curtail the worst predictions in the report. Removing carbon from the air may be an essential component, as well.
And here's the most important takeaway: 
You're not alone in this fight.
Nearly 200 countries approved this report and see the need for urgent climate action. Millions of people around the world are working together and advocating for change.
And, of course, you have us at MEIC and your fellow MEIC members. We've been fighting for the environment for almost 50 years, and we're not giving up. There is so much to fight for. There's so much that we can still save. 
We can prevent the planet from heating to extremes and preserve a livable climate for our children. We can fight for justice, alongside communities around the world that have already seen the impacts of the climate crisis and who will feel the worst effects before anyone else.
We can help protect trillions of other lifeforms on Earth, from the great blue whales in the ocean to the 1,500 different species of butterflies in the Amazon to the huckleberries and grizzlies here in Montana.
We can build a clean energy economy that is good for our livelihoods AND our planet.
We have the power to make a difference here in Montana and fight to make a difference at a larger scale. 
In Montana, that means we must demand our elected officials stop taking money from fossil fuel companies in order to push their agenda. Senator Daines, Senator Tester, Representative Rosendale, and Governor Gianforte have the responsibility to put the health and safety of Montanans first.
MEIC is continuing to push for the closure of the coal-fired Colstrip plant, which is the biggest polluter in Montana and the region. We must advocate for a cleaner energy system that relies on renewable energy, such as solar and wind generation. 
We must fight cryptocurrency companies that are hell-bent on mining their digital currency, even if it means reviving old coal-fired plants to do it, such as the plant in Hardin, Montana.
We must push NorthWestern Energy and the Public Service Commission for investments in clean energy, such as wind, solar, and energy efficiency, rather than expensive, polluting gas plants.
Here's what you can do today:
Contact your elected officials at every level and ask them for specific climate action to reduce carbon dioxide emissions.

You can use our website to do so

.

Help us hold elected officials and state agencies accountable by commenting when they try to weaken or eliminate important environmental safeguards. 

Listen to marginalized voices. So many communities are already seeing these impacts:

follow them on social media

, share their stories, and learn.

As much as you can, limit your own impact and encourage your family, friends, and coworkers to do the same.

Donate to MEIC and other climate justice groups. Even more than any carbon-reducing lifestyle decisions you make – although those are important – investing in the climate advocacy movement will generate the significant, systemic changes we need to see.

Go for a hike, go birdwatching, plant a tree, or garden with a friend. Remind yourself of what we're fighting for.