Signal Peak operates the Bull Mountains Mine north of Billings, Montana. The Bull Mountain mine is Montana's only underground coal mine and exports its coal to Asian markets. Signal Peak's sordid history of illegal behavior, includes cocaine trafficking, firearms violations, worker endangerment, environmental violations, embezzlement, tax evasion, bribery, and money laundering. It is past time for state and federal environmental agencies to investigate the mine, its owners, and the extent to which its illegal activities have harmed area waters, wildlife, and nearby ranching operations.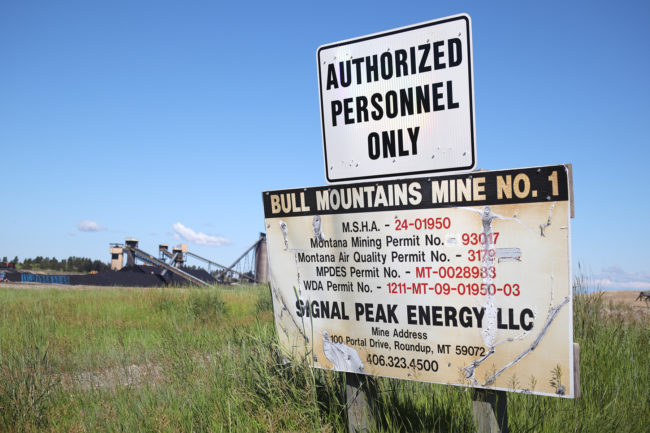 1992 The Montana Department of Environmental Quality (DEQ) issues a mining permit to Meridian Minerals, a subsidiary of Burlington Northern Resources. The permit is leased and transferred to other operators over the next 16 years amid violations, closure, lawsuits, and controversy.
July 10, 2008 Wayne Boich gives $200,000 to the Montana Democratic party led by Gov. Brian Schweitzer, the largest donation to the party by a non-resident and second largest in its history.
July 17, 2008 Boich Companies (Wayne Boich, CEO) and FirstEnergy Corp announce they are buying into the mine for $125 million. Boich will own 55% and FirstEnergy 45%. Mine is renamed Signal Peak and will change to a longwall operation from a room and pillar mine.
Dec. 27, 2010 Musselshell County rejects mine's request, backed by Gov. Schweitzer, to cut its tax bill for five years because it could cost the cash-strapped county up to $10 million by 2015.
April 28, 2011 Despite the need for county funds, Gov. Schweitzer pushes passage of a $2.8 million annual tax break for the mine over 10 years claiming it will attract investors to the mine.
Oct. 18, 2011 Gunvor Group Ltd, registered in Cyprus and co-owned by Gennady Timchenko, a Russian oligarch close to Putin, buys one-third of Signal Peak from Boich and FirstEnergy for $400 million.
Feb. 28, 2012 The US Bureau of Land Management leases 2,680 acres of federal coal lands to Signal Peak containing 61.4 million tons of recoverable coal for 30 cents per ton.
July 2012 Curbed Miami reports Wayne Boich "coal mining heir blows $20 million" on three homes in Miami Beach to tear them down and build an even bigger "party palace."
Sept. 18, 2012 Montana Land Board leases 640 acres of state land with 12 million tons of coal to Signal Peak for $1.55 per ton ($3.6 million upfront plus a 10-year contract for an estimated $15 million). The Board is made up of the top five of the state's elected officials.
Aug. 21, 2013 Signal Peak owners finish a 35-mile railroad costing $105 million from the mine to the BNSF railroad. It carries coal for Asia and South America to ships in Vancouver, B.C.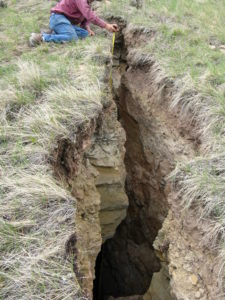 Mar. 18, 2014 Montana Land Board approves Signal Peak's request to add 7,161 acres and 176 million tons of mineable coal reserves to its mine permit over the objections of environmental groups. This is called the AM3 Expansion of the mine. The Board also approved including 640 acres of state lands in the permit area.
Mar. 19, 2014 Gennady Timchenko – the 6th wealthiest Russian oligarch, Putin's old friend, Judo partner and KGB colleague – claims he sold all his Gunvor Group assets to co-founder Tornqvist.
Mar. 20, 2014 The US Treasury sanctions Timchenko after Russia seizes Crimea from Ukraine. Its press release states "Putin has investments in Gunvor" and may have access to its funds.
Nov. 5, 2014 The Wall Street Journal reports federal prosecutors are investigating if Timchenko laundered money linked to corrupt deals in Russia through the US financial system using Gunvor.
Feb. 24, 2015 The US Office of Surface Mining approves Signal Peak's request to expand the mine plan area onto 2,540 acres of remaining federal coal leases as part of the AM3 Expansion.
Jan. 14, 2016 Montana Board of Environmental Review rules for MEIC, finding DEQ failed to show legally required protection of water resources when it approved the AM3 expansion.
Feb. 24, 2016 The Associated Press reports FirstEnergy says the mine is worth nothing and has reduced the value of its ownership from $362 million to zero.
Aug. 14, 2017 Federal judge halts AM3 expansion due to the US Office of Surface Mining's failure to fully and fairly analyze the mine's environmental impacts and comply with federal law.
July 7, 2018 The mine tears out a spring and water storage developed by Steve Charter for cattle.
Nov. 14, 2018 Montana state judge finds Signal Peak's lawsuit against MEIC and two landowners, Steve Charter and Ellen Pfister, had harassed them with "unwarranted" and "oppressive" subpoenas for submitting public comments critical of the mine. Later he ordered Signal Peak to pay their legal fees of $56, 044.
Dec. 1, 2018 Ellen Pfister files a citizen complaint that Signal Peak has not properly permitted and reclaimed an area it tore up in 2011, "the nitrogen scar." DEQ's reactions don't comply with federal and state laws requiring enforcement and the inclusion of citizens in inspection and enforcement actions.
Spring 2019 Montana Legislature passes HB 403 to extend Signal Peak's tax break through 2030.
Oct. 17, 2019 Reuters reports Swiss prosecutors found Gunvor guilty of bribing public officials of the Congo Republic and Ivory Coast to win oil contracts and set a fine of $95 million.
April 14, 2020 Global Mining Holding Co. owner of Signal Peak gets a $7,135,000 Paycheck Protection Program loan from Huntington Nat'l Bank, saying it's needed to pay 279 miners.
May 4, 2020 Steve Charter discovers Signal Peak has damaged and destroyed his well and water pumping and storage equipment. He files a citizen complaint with DEQ. The agency has failed to require Signal Peak to guarantee adequate, good quality replacement water as the law requires.
July 21, 2020 FBI agents arrest Ohio House Speaker Larry Householder for a 2018 bribery plot that funded the campaigns of state legislature candidates who pledged to elect Householder to be Speaker so he could push through a bill forcing utility customers to pay for a billion-dollar bailout of FirstEnergy's two nuclear plants. The federal criminal complaint says FirstEnergy paid nearly $61 million in bribes to elect Householder's team and pass the bailout.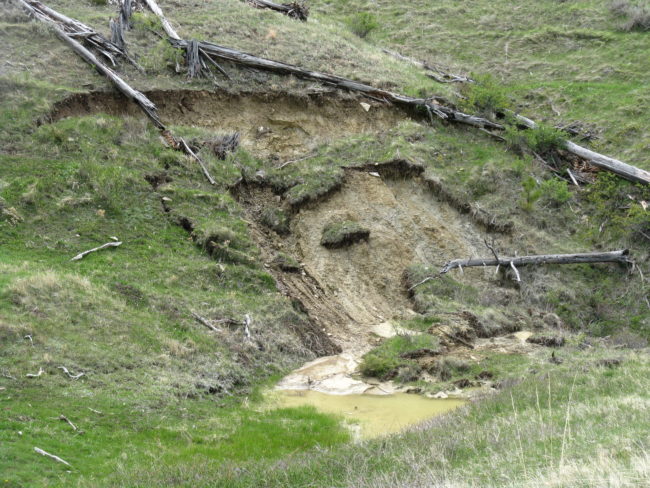 July 27, 2020 Montana DEQ rules that Signal Peak's underground mine caused the depletion of Steve Charter's well and requires the mine to provide replacement water. The company hauls in some replacement water that is contaminated with oil.
Aug. 5, 2020 A federal criminal complaint charges Householder and four others with racketeering in the Ohio bribery plot. The complaint states the CEO of "Company C" gave $25,000 to open bank accounts for a company at the center of the plot. The Columbus Dispatch confirms Wayne Boich is the CEO of "Company C" and tracks over $500,000 given by Boich and family to candidates involved in the plot. No charges have been filed against Boich.
Oct. 8, 2020 Wayne Boich gives $50,000 to the Montana Democratic Party led by Gov. Bullock.
June 1, 2021 The L.A. Times reports Wayne Boich pays $21.5 million for a 7-bed, 10-bath "megamansion" in Beverly Hills and that he owns homes in Miami Beach and the Hamptons.
June 11, 2021 The federal government forgives the $7,135,000 PPP loan and $35,265 interest.
July 23, 2021 FirstEnergy admits to the US Department of Justice that it bribed Householder and the Ohio Public Utilities Commission chairman and agrees to pay a $230 million fine. FirstEnergy has fired its top executives.
Aug. 11, 2021 DEQ approves Minor Permit Revision 278 with no public input. This changes previously agreed upon language for replacing Charter's destroyed water and allows Signal Peak to get water from Charter's spring that's already committed to his use rather than requiring Signal Peak to haul in sufficient water for the cattle. DEQ has a long history of changing the permit in secret to allow the mine's failures and bad practices.
Sept. 28, 2021 Reuters reports a US agency is investigating Gunvor for bribery from 2009 to 2019 to win oil contracts in Ecuador. An employee working in Houston and the Bahamas pled guilty on April 6, 2021; the US Department of Justice is prosecuting him for money laundering.
Oct. 5, 2021 Signal Peak pleads guilty to knowing violations of environmental and mine safety laws for at least six years when it dumped coal waste and slurry contaminated with industrial chemicals and heavy metals in the mine.
Nov. 3, 2021 Ohio Capitol Journal reports FirstEnergy will refund $306 million to utility customers for excessive charges and admits paying $4.3 million to bribe the PUC Chairman.
Nov. 10, 2021 Signal Peak sends letter to Charter Family notifying them of its intention to "enter upon, take, use, or exclusively use" the entirety of the Charter property.
Dec. 8, 2021 Us Weekly reports Wayne and Cynthia Boich hosted the "party of the year" on Dec. 3 with an "A-List guest list" at their Miami home. They served "only the highest caliber spirits" to celebrate the annual Art Basel festival in Miami, "the premier art show of the Americas."
Jan. 31, 2022 The mine pays a $1 million fine and takes 3 years probation for violating mine safety and environmental laws. The US Attorney says mine owners "fostered a climate of fraud" and managers lied about issues resulting in convictions and charges for nine persons on crimes of embezzlement, tax evasion, bank fraud, money laundering, drugs, and firearms violations.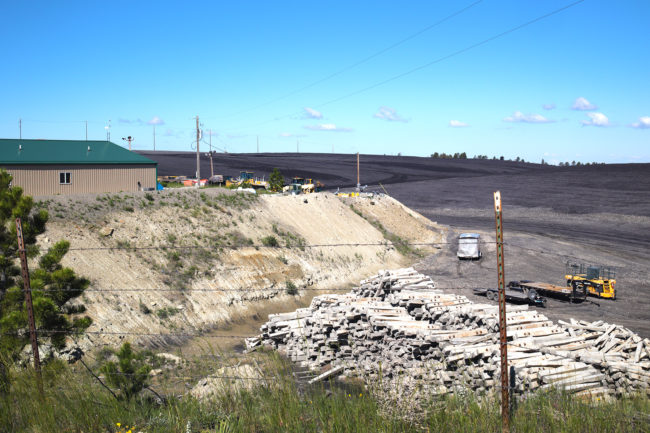 Feb. 28, 2022 The European Union blacklists Timchenko and freezes all his known assets.
Mar. 1, 2022 Signal Peak sends letter to Charter family notifying them of its intention to terminate the Charter's lease of Signal Peak's property.
April 11, 2022 9th Circuit Court of Appeals sides with environmental groups, rejecting the 2018 approval of the AM3 Expansion saying the federal agencies "hid the ball" on climate impacts that would make the mine the single largest source of greenhouse gas in the US.
2008 – 2022 US Mine Safety and Health cites Signal Peak for over 1,600 safety violations, including those that caused injuries and at least one death; the agency found at least 122 accidents had occurred.
2008 – 2022 Wayne Boich, his wife, mother and father give $548,900 to Montana candidates and political parties.
June 2021 – Summer 2022 Signal Peak escalates pressure on landowners by blocking access to water for their cows, damaging water sources and storage, and not filling dangerous subsidence cracks. Signal Peak tries to force local ranchers off their own land plus lands leased from the mine that have years left on the life of the lease. State and federal coal agencies don't enforce the laws nor properly respond to citizen complaints such as one filed by Ellen Pfister on July 1, 2022, reporting imminent harm from gaping subsidence cracks and locked access to water.
This timeline was compiled by: Carolyn Johnson, Program Assistant, MEIC, with contributions from Bronya Lechtman, Northern Plains Resource Council; Ellen Pfister; Steve Charter; Shiloh Hernandez, EarthJustice; Derf Johnson, Anne Hedges, and Katy Spence, Montana Environmental Information Center. Photos provided by the Northern Plains Resource Council and Ellen Pfister.
Click here to view sources, additional reading, and a stand-alone webpage.