By Holly Michels, Helena Independent Record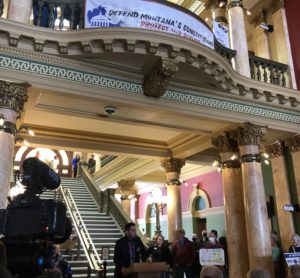 Described as a "rally to defend Montana's Constitution," several of those who have been vocal in their support of the document spoke about its value as the Legislature this week worked through hearings for some legislation that would, if passed, ask voters to make changes to the document in the fall of 2024.
"As many of us know, when you over-till the land, you sully the earth and destroy that which you seek to create," Keegan Medrano, of the ACLU of Montana, said Wednesday. "What is happening right now in Montana is that effort to over-till. What is happening right now is a flagrant disregard for the existing provisions of the Constitution and a craven effort to impose their most unpopular ideas into our document."
The event was promoted by the Montana Environmental Information Center and featured a list more than a dozen organizations that were co-hosts. Speakers touched on topics from the formation of the Constitution to concerns they had about efforts to put referendums before voters in the fall of 2024 to make changes to the document.