By Anne Hedges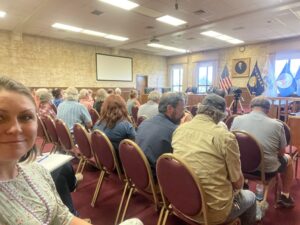 MEIC's Katie Harrison in Great Falls on Aug. 14.
Montanans can't afford Montana's largest utility. Right now, NorthWestern Energy is trying to raise residential customers' rates by 28%. In the fall, it will try once more to persuade the Montana Public Service Commission (PSC) to allow it to charge customers for a billion dollar gas plant outside of Laurel. Regulators are supposed to protect customers from monopoly utilities by requiring them to rigorously plan for future energy systems to avoid these types of price hikes. These plans, called Integrated Resource Plans (IRP), are intended to provide a transparent blueprint for how a utility will provide affordable and reliable electricity in the future. Unfortunately, NorthWestern's most recent plan fails on all counts.
The law requires at least two public hearings on a utility's IRP, but the PSC held five, one in each commissioners' district. Even though the hearings occurred in the middle of August when most Montanans are out enjoying the last few days of summer, Montanans turned out. People in Great Falls complained that the hearings were poorly advertised; they only heard about it from environmental organizations. And despite Bozeman having the strongest turnout at the 2019 IRP hearings; this time around, Bozeman was replaced with Butte, where NorthWestern Energy has its headquarters. Despite these setbacks, Montanans showed up to ask the PSC to require NorthWestern to plan for a more affordable electricity system that focuses on addressing the climate crisis.
Many at the hearings complained that NorthWestern's IRP will result in ever increasing rates for consumers. As Roxa Reller testified, "Montanans are being used as an ATM."  Others complained that the plan largely ignores energy efficiency and demand side management opportunities, which are critical when electricity demand is high and power prices skyrocket. Still others raised concerns about NorthWestern's failure to keep and acquire more renewable energy resources; in fact, it intends to let existing contracts with renewable energy projects expire, such as with the Judith Gap Wind Energy Center.
Many people – including former state regulator, John Herrin – complained about NorthWestern trying to be the only utility in the nation wanting to increase its reliance on coal by doubling its ownership share of the 40-year old Colstrip coal-fired power plant. Its IRP failed to consider impending federal regulations that will require limits on greenhouse gas emissions, coal ash ponds, and toxic air pollution – technology that already has been installed at every other coal-fired plant in the nation. Many complained about its expensive proposal for the methane gas plant near Laurel, while others criticized its proposal to eventually replace Colstrip with experimental and outlandishly expensive nuclear technology that hasn't even been developed yet.
There are so many flaws in NorthWestern's IRP, but folks mostly raised concerns about NorthWestern's utter lack of concern for the climate crisis – especially in light of the landmark Held v. State of Montana judicial decision (see article). Person after person pleaded with the PSC to force NorthWestern to acknowledge that the energy system must change or we will face more heat, drought, and horrifying wildfires. At the time of this writing, only three of the five hearings have been held. But Montanans are fired up and demanding an energy system that relies on cleaner, more affordable technologies instead of perpetuating the mistakes of the past.
This article was published in the September 2023 issue of Down To Earth.