At MEIC, when we fight to protect the land, air, water, and life-sustaining climate in Montana, we strive to follow the example and tread the same footpaths of the Indigenous people who've made this land their home for generations.
MEIC's work happens on the ancestral homelands of the A'aninin (or Gros Ventre), Apsáalooke (or Crow), Anishanabe (or Chippewa), Little Shell Chippewa, the Ne Hiyawak (or Cree), the Michif Piyii (Métis), the Nimiipuu (or Nez Perce), the Niitsítpiis-stahkoii (Blackfeet), the Tsis tsis'tas (or Northern Cheyenne), the Lakota, Dakota, and Nakoda (or Sioux), the Séliš-Ql̓ispé (or Salish), and the Ktunaxa (or Kootenai) people. We are grateful for their stewardship of this place and acknowledge that our organization has more work to do to fully honor and respect their relationships to these lands.
Check out this website to see the Native land upon which you live and work.
Learn about Native American Communities in Montana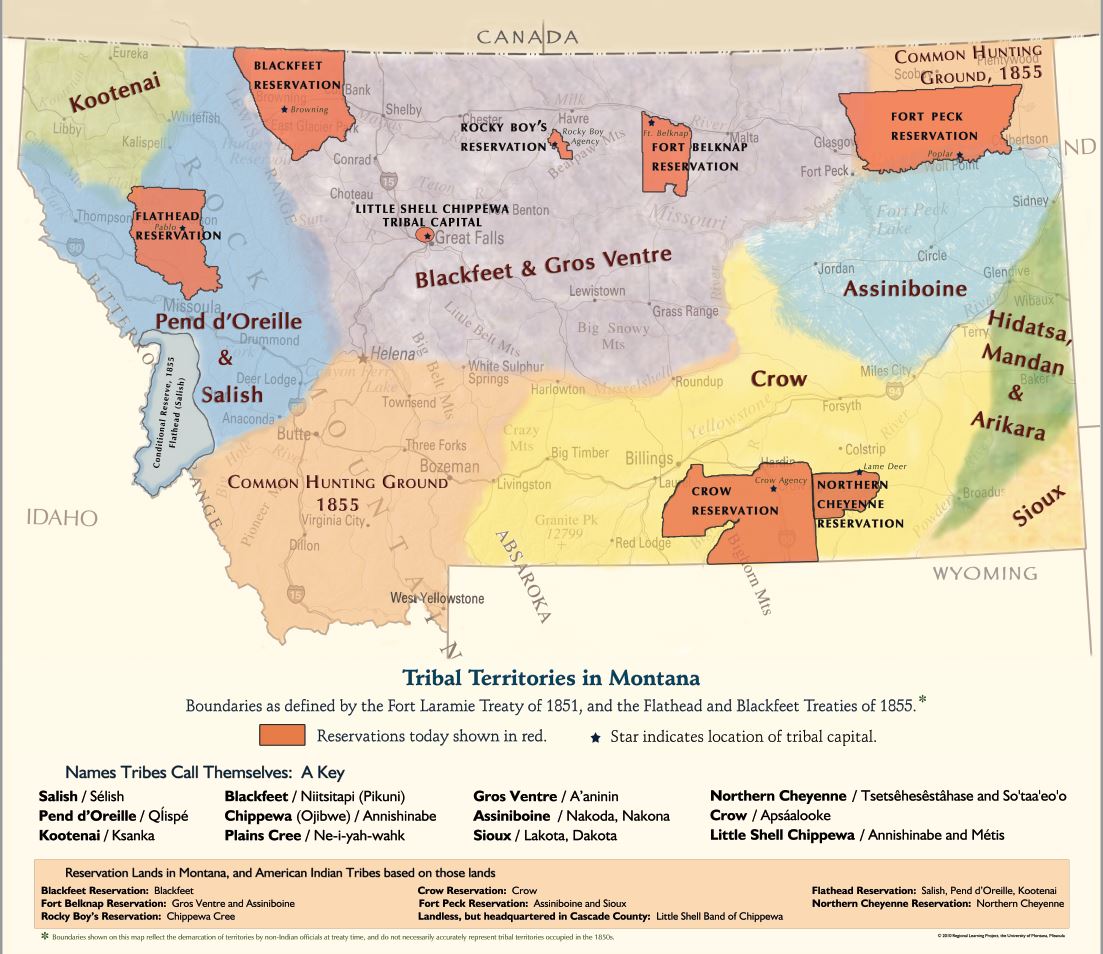 Tune in to Native American News: Learn about the challenges and stories of success
MMIW (Missing and Murdered Indigenous Women)
A recent piece by NBC Today covering MMIW in Montana:
Follow Native-led News Outlets
The official news publication of the Flathead Indian Reservation in Montana.
An independent digital media company covering the Crow Indian Reservation and the surrounding area in Montana.
Daily news that affects the lives of Native Americans nationwide.
Support and Donate to Native-led Organizations Doing the Work
Established in 2011, Western Native Voice (WNV) is a non-profit, non-partisan organization working to increase Native American participation and engagement in voting and self-determination. They work to nurture and empower new native leaders and impact policies affecting Native Americans through community organizing, education, leadership, and advocacy. They are engaged on all eight Native nations and engaged in major Montana urban centers because approximately half of Montana's native population lives off the reservation.
You can help ensure that Western Native Voice continues doing the necessary work by donating here.
Follow Western Native Voice's work on social media:
The ACLU of Montana envisions a fair, equitable, and free Montana that welcomes and celebrates diversity of all kinds. They envision a Montana where everybody is treated with dignity and respect, and has equal access to rights and freedoms. They work to hold the government accountable to all who live in Montana, with a particular focus on those who have been historically (or continue to be) disenfranchised, including Indigenous people and people of color, immigrants, LGBTQ individuals and families, the poor, and those with disabilities.
Donate to MT ACLU to protect the civil liberties of people in Montana and across the nation. 
Follow the ACLU of Montana's work on social media:
Established in 1990 within the United States, Indigenous Environmental Network (IEN) was formed by grassroots Indigenous peoples and individuals to address environmental and economic justice issues (EJ). IEN's activities include building the capacity of Indigenous communities and tribal governments to develop mechanisms to protect our sacred sites, land, water, air, natural resources, health of both our people and all living things, and to build economically sustainable communities.
Donate to IEN to support grassroots leaders and Indigenous youth who carry out IEN's mission to address and develop strategies for the protection of our environment, our health, and all life forms.
Follow Indigenous Environmental Networks's work on social media:
Support Native American Owned-Businesses
The Confederated Salish and Kootenai Tribes of the Flathead Indian Reservation in western Montana harvest lake trout to protect native cutthroat and bull trout from predation. Purchase of their fillets supports ongoing native trout conservation. Visit their website to find where you can purchase their trout across Montana.
Sage and Oats Trading Post is located in downtown Helena and owned by Major Robinson (Northern Cheyenne) and his wife, Michelle. Visit their store on North Last Chance Gulch in Helena or shop online.
Hand-crafted baskets and paintings, created by Valerie Veis, an enrolled member Little Shell Band of Chippewa Indians in beautiful Montana.
Find more here: Native American Made in Montana 
Read stories by and about Indigenous people.
1. An Indigenous Peoples' History of the United States by Roxanne Dunbar-Ortiz: An essential resource providing historical threads that are crucial for understanding the present. Dunbar-Ortiz adroitly challenges the founding myth of the United States and shows how policy against the Indigenous peoples was colonialist and designed to seize the territories of the original inhabitants, displacing or eliminating them.
2. The Journey of Crazy Horse by Joseph M. Marshall lll: Drawing on vivid oral histories, Joseph M. Marshall's intimate biography introduces a never-before-seen portrait of Crazy Horse and his Lakota community.
3. Playing Indian by Philip J. Deloria: This provocative book explores how white Americans have used their ideas about Native Americans to shape national identity in different eras—and how Indian people have reacted to these imitations of their native dress, language, and ritual.
4. Bury My Heart at Wounded Knee by Dee Brown: A historic chronicle based on the book by Dee Brown explains how Native Americans were displaced as the United States expanded west.
5. Everything You Wanted to Know About Indians But Were Too Afraid to Ask by Anton Treuer: An essential book of questions and answers for Native and non-Native readers alike. Ranging from "Why is there such a fuss about nonnative people wearing Indian costumes for Halloween?" to "Why is it called a 'traditional Indian fry bread taco'?" to "What's it like for natives who don't look native?" to "Why are Indians so often imagined rather than understood?", and beyond.
6. Braiding Sweetgrass by Robin Wall Kimmerer:  Potawatomi professor Robin Wall Kimmerer explores reciprocal relationships between humans and the land, with a focus on the role of plants and botany in both Native American and Western traditions. 
Watch: Video content by and about Indigenous people
Documentary: Native Way Forward (Roadtrip Nation)
For too long, TV and film have depicted Native American experiences in the past tense. It's time to shine a light on the present-day lives of Native young adults, and explore what's possible for their futures. In Roadtrip Nation's newest documentary—led by director Ryan RedCorn—Native leaders are telling their stories in their own words, and illuminating the path for Native youth everywhere.
Listen: Podcasts hosted by Indigenous leaders
Podcast: This Land
Hosted by Native American journalist Rebecca Nagle (Cherokee Nation). In the 2nd season of "This Land" podcast, Nagle takes listeners through the 40-year history of the Indian Child Welfare Act (ICWA).
Podcast: All My Relations
Hosted by Matika Wilbur (Swinomish and Tulalip), and Dr. Adrienne Keene (Cherokee Nation) to explore relationships — relationships to land, to creatural relatives, and to one another.
Podcast: The Red Nation
Features discussions on Indigenous history, politics, and culture. Hosted by Nick Estes and Jen Marley with help from our friend and comrade Sina. The Red Nation Podcast is also the home of Red Power Hour, hosted by Melanie Yazzie and Elena Ortiz.