By Bruce Bender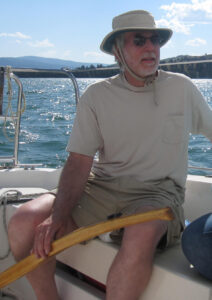 This fall, MEIC will be celebrating its 50th anniversary. During the last half-century, MEIC has stopped toxic mining projects and helped pass and defend strong pollution control laws. It has advocated for the transition from dirty coal to clean energy. The strong membership of thousands of Montanans has allowed MEIC to remain independent and to fight for what is right. 
This past Legislative Session only reinforces the key role that MEIC plays in protecting Montana's environment. MEIC is a bright light in the efforts to protect our right to a clean environment, and my time on the Board of Directors put me in a unique position to support that mission.
When I retired from my job at the City of Missoula, my friend John Rundquist encouraged me to join MEIC's Board of Directors. As I approach the end of my term now, I'm looking back on my five years of time on the Board. 
This was my first experience being on a nonprofit board, and I have worked with nearly 20 Board members during that time. Their generosity and commitment to MEIC has inspired and impressed me. Their backgrounds are diverse, but their cause to protect our environment is the common link. 
Similarly, MEIC's staff has been exceptionally dedicated to protecting our air and water and working toward a transition to clean energy. Their competence and efficacy in defending our rights to a clean and healthful environment have benefited all Montanans. 
MEIC's mission to mitigate climate change especially resonated with me. I have supported MEIC's efforts to contest NorthWestern Energy's plans to expand its use of fossil fuels, including acquiring more of the Colstrip coal-fired power plant and construction of methane gas plants. When necessary, MEIC has taken legal action against NorthWestern Energy. MEIC has also been involved in litigating the expansion of the sprawling Rosebud Coal Mine and the corrupt Signal Peak mining operation that supplies coal to overseas customers. It is critical that MEIC continues to be a leader in the efforts to reduce fossil fuel usage for energy production.
During my term, the Board worked intensively to achieve a smooth transition from Director Jim Jensen's retirement to creating Co-Director positions filled by Cari Kimball and Anne Hedges, recognizing Anne's key leadership and Cari's energy and experience. The Board also supported their efforts to expand the staff to meet critical needs such as communication and land use policy and worked on moving salaries closer to market levels. I feel proud of the work we did during the last five years I was on MEIC's Board.
I leave the Board excited about new staff members who have expanded the reach of MEIC and the necessary support to carry on. Montana is very fortunate to have MEIC and the service it provides.
Bruce Bender was born and raised in a farming area outside Miles City. He graduated from MSU in Chemical Engineering and worked for the City of Helena for five years and for the City of Missoula for 32 years. Now that he's retired, Bruce works to mitigate the effects of climate change and protect wonderful open places: the rivers and lakes, wilderness areas, wildlife, and our opportunities to enjoy them.
This article was published in the June 2023 issue of Down To Earth.