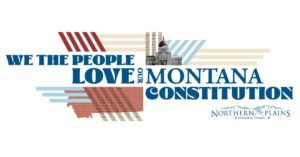 MEIC is partnering with Northern Plains Resource Council for this event.
For more than half a century, Montana's Constitution has faithfully protected our freedoms, rights, and people; it secures what makes Montana special.
But a handful of lawmakers have already proposed 54 constitutional amendments this legislature. That's almost twice as many amendments as our Constitution has seen in its entire history – and this is only the third week of the legislature! These proposals include rolling back our right to a clean and healthful environment and attacks on our courts and democracy, among other things.
We have a plan and a path to successfully defend our Constitution. But we can't succeed if we're not vocal – we need to let our legislators know that Montanans love and celebrate our Constitution and encourage them to do the right thing. Come rally with us!
Wednesday, February 1st
12 – 1 PM
Indoors at the Helena Capitol Rotunda (1301 E 6th Ave, Helena)
Questions? Contact Svein at (406) 248-1154 or svein@northernplains.org.
—-
Protecting our Constitution is a big effort! That's why we're proud to be joined by these wonderful rally co-sponsors:
ACLU of Montana
Big Sky 55+
Forward Montana
Friends of the Montana Constitution
Great Falls Rising
League of Women Voters of Montana
Montana Environmental Information Center (MEIC)
Montana Audubon
Montana Human Rights Network
Montana Sierra Club
Planned Parenthood Advocates of Montana
Western Native Voice
The Wilderness Society