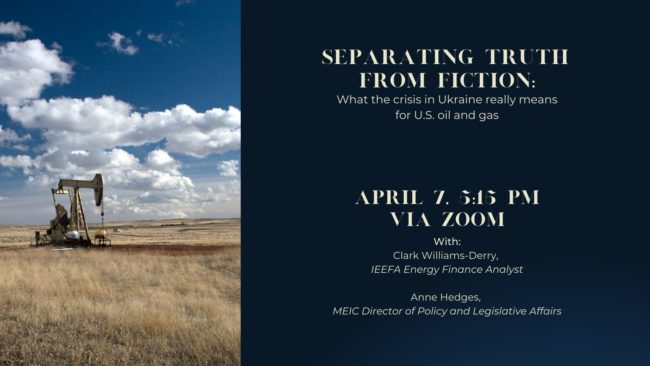 Why are oil prices high? Are oil companies gouging? How have sanctions and the Russian oil import ban roiled oil & refining markets?  
With the ongoing war in Ukraine, a lot of questions are floating around. MEIC wants to help set the record straight. On April 7, join us for a special meeting with Clark Williams-Derry, Energy Finance Analyst at the Institute for Energy Economics and Financial Analysis (IEEFA). Clark will spend some time addressing the facts, like why oil companies have NOT been ramping up drilling and why the federal government actually has little control over the amount of oil and gas that the US produces. There will be time for questions.
If time allows, MEIC Director of Policy and Legislative Affairs Anne Hedges will give an update on MEIC's work on oil and gas at the state and federal level.
Please register in advance for this Zoom meeting. Space is limited. 
Register here: 
https://zoom.us/meeting/register/tJMscO2grjoiEtF_VlCP_mW7BuO42PhJ4N_m

About Clark Williams-Derry: Clark served for 18 years as director of energy finance and research director for the Sightline Institute, a multi-issue sustainability think-tank based in Seattle, where his research focused on U.S. and global energy markets. He was also a senior analyst for Environmental Working Group.