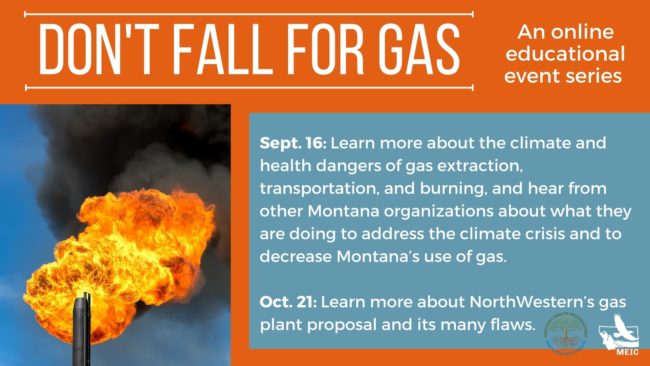 The gas industry has known for decades that it contributes to climate change. For the past 100 years, the gas industry has been working to convince us that gas is safe, reliable, and essential. The gas industry lobbies across the country to prevent better building codes to protect their profits. Industry has even gone so far as to directly advertise these myths to children, distributing coloring books to elementary schools using pro-industry messaging. 

The truth is, gas is not a bridge fuel between coal and renewable energy, gas is not the solution to stabilize our energy grid, gas will not save customers money, and gas is not the solution to the climate crisis.


Event:
Join Montana Environmental Information Center Policy Director Anne Hedges and Montana Health Professionals for a Healthy Climate experts Drs. Lori and Rob Byron to learn about how gas extraction, transportation, and use in our buildings and homes for electricity, heating, cooking, and more, brings serious costs and health risks. There will be an opportunity to connect with various organizations working on gas and climate issues, and learn how to get involved in your community and across the state.
Featured Speakers:
Lori Byron, MD, FAAP
Chair, Montana Health Professionals for a Healthy Climate
Dr. Lori G. Byron practiced pediatrics for 27 years on the Crow Indian Reservation. Currently retired from Indian Health Service, she now works as a Pediatric Hospitalist in a private hospital and works on environmental issues with several organizations, including co-chairing the Citizens' Climate Lobby Health Team and being a member of both the Children's Health Advisory Committee to the EPA and the Executive Committee of the Environmental Health Council at the American Academy of Pediatrics. She is currently a Masters' Candidate from Johns Hopkins in Energy Policy and Climate.
Robert Byron, MD, MPH, FACP
Vice Chair, Montana Health Professionals for a Healthy Climate
Dr. Robert Byron, an internist, has practiced for more than two decades on the Crow Indian Reservation. He is a founding member of the Bighorn Valley Health Center, a federally qualified health center in Eastern Montana, and a former governor for the Montana Chapter of the American College of Physicians. Rob co-chairs the Citizens' Climate Lobby Health Team and is a member of the Medical Society Consortium on Climate and Health. He advocates for addressing climate change with emphasis on public health and environmental justice.
Anne Hedges
Director of Policy and Legislative Affairs, Montana Environmental Information Center
Anne Hedges directs MEIC's program work, including its legislative, policy, and legal activities. Anne received her B.S. in Environmental Policy Analysis and Planning from the University of California at Davis and a Masters of Environmental Law from Vermont Law School. A policy expert with MEIC since 1993, she oversees all program work with her primary focus on climate change, fossil fuels, clean air, and energy.


RSVP:
September 16, 6:30-8:00pm via Zoom
Please join us to learn more about the climate and health dangers of gas extraction, transportation, and burning, and hear from other Montana organizations about what they are doing to address the climate crisis and to decrease Montana's use of gas. Register here.
Partners: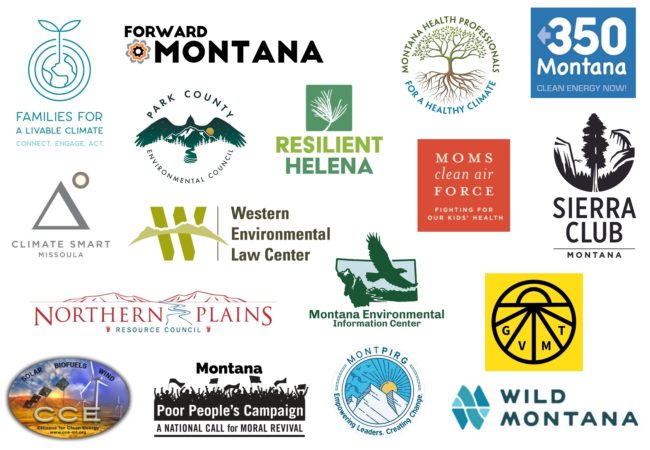 More reading:
The truth about gas:
More reading:
The truth about gas:
https://meic.org/issues/oil-and-gas-in-montana/oil-and-gas-pollution-in-montana/
Gas myths and industry talking points:
https://www.vox.com/22260311/oil-gas-fossil-fuel-companies-climate-change
https://www.theguardian.com/business/2020/jan/08/oil-companies-climate-crisis-pr-spending
https://www.motherjones.com/environment/2021/06/how-the-fossil-fuel-industry-convinced-americans-to-love-gas-stoves/
https://grist.org/culture/how-natural-gas-propaganda-made-it-into-elementary-classrooms-in-deep-blue-america/