By the Chronicle Editorial Board, Bozeman Daily Chronicle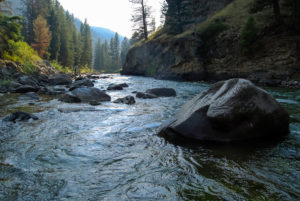 A Gallatin County judge has ordered the state Department of Environmental Quality back to the drawing board before it renews a wastewater discharge permit for the Lazy J South, a residential and commercial development in Big Sky.
Anyone who cares about the welfare of the Gallatin River should welcome the court's ruling.
DEQ had renewed the permit after concluding the Lazy J sewage treatment facility did not contribute significant changes to groundwater quality. But Judge Peter Ohman found the agency did not consider the cumulative effects of all pollution sources as required by state law.
The Gallatin River is the poster child of what cumulative effects can do to a waterway. Decades of rapid — and now accelerating — development have led to high nutrient levels that have caused algae blooms in recent years. And those blooms threaten aquatic life in the river. Upper Missouri Waterkeeper Executive Director Guy Alsentzer characterized the deterioration of the river's quality as "death by a thousand cuts."
The Lazy J's discharge may not contribute much additional pollution to the water. But continue to allow a whole lot of developments to put a little bit in the water and it adds up. Taken in total, all these discharges are clearly harming the river. The DEQ designated the Gallatin as "impaired" this past summer in response to the blooms.