By Derf Johnson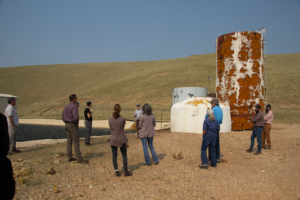 Water must be perpetually treated in the Little Rockies.
It's time to prohibit any further mining activities in the Little Rocky Mountains. Full stop. The recent, unpermitted mining activity by Blue Arc and others is another serious affront in a long series of injuries to the Fort Belknap Indian Community and the rule of law.
This is why the Fort Belknap Indian Community, MEIC, and our conservation partners recently filed a motion to intervene in an enforcement action brought by the Montana Department of Environmental Quality (DEQ) regarding the illegal mining activity within the Zortman-Landusky Reclamation Area, where tens of millions in public funds have already been spent to address ongoing pollution from the defunct Zortman and Landusky Mines in the Little Rocky Mountains. This mining activity threatens to exacerbate environmental harm in an area of profound cultural significance to the Fort Belknap Indian Community. The Gros Ventre and Assiniboine Tribes have faced an extreme environmental justice burden from the mines for decades, and its past time to redress these wrongs and set a new course.
DEQ brought an enforcement action in April 2023 against Luke Ployhar, Owen Voigt, and their respective companies after Ployhar and Voigt attempted to circumvent the Montana permitting process by illegally mining at the former Zortman mine site. DEQ has requested $512,767 in fines and permanent injunctive relief, and to prohibit Ployhar, Voigt, and their companies from future mining until the disturbances are reclaimed and the penalties are paid. In 2022, DEQ required Ployhar to complete an Environmental Impact Statement (EIS) on the cultural impacts of mining the Zortman site, but later discovered that Ployhar and Voigt had already charged forward without the requisite authorization. Tribes and conservation groups had previously challenged DEQ's approval of a different mining exploration license of Ployhar's at the site, which is currently stayed in Phillips County District Court.
A hearing was held in Montana District Court on August 4 to consider the intervention, as well as a request for a preliminary injunction by DEQ to prevent any further illegal mining activity. Amanda Galvan with Earthjustice is representing the Fort Belknap Indian Community, MEIC, Montana Trout Unlimited, and Earthworks in the intervention.
This article was published in the September 2023 issue of Down To Earth.