Recurring Events, Organized by Watershed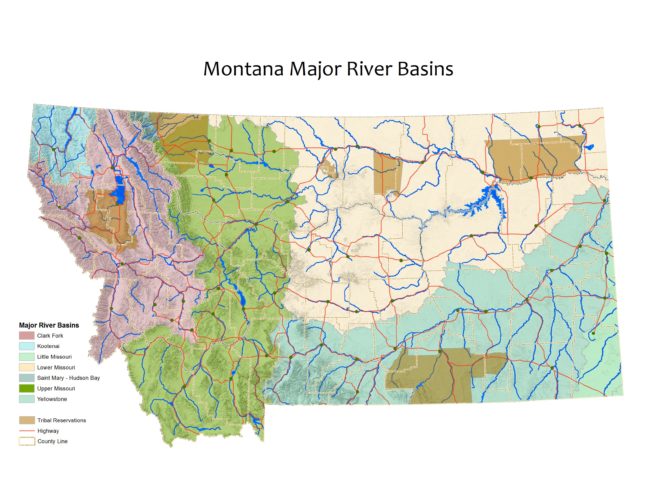 Western MT (Clark Fork and Kootenai)
Due to Covid, some meetings are now virtual. Check with contacts & links given to see if meetings have returned to being in-person.
Saturday
Farmers Markets across the state are described here. and here.
Note that many markets have now added winter markets..
Winter Farmers Markets (2021-2022):
Missoula's WINTER Farmers Market starts Nov 13 in Southgate Mall. Saturdays 9am to 2pm. Until April 23. Also on Wednesdays 4:30- 7pm until Dec 22.
Butte's winter market. at Butte Plaza Mall.
Missoula Farmers Market-May to October
Saturdays, May to October, 8am to 12:30pm. North end of Higgins Avenue. Fresh local produce, flowers, baked goods, coffee. Live music. (note– also Tuesdays July to Sept from 5:30 to 7pm). Facebook page.
Clark Fork River Market in Missoula-May to October
Saturdays, May to October, 8 am to 1 pm. On the river, east of Caras Park & Higgins Street bridge. Features local produce, meat, dairy, flowers, plants, food vendors, value added products, and crafts made from farm products. Demo's on cooking, composting, gardening, welcome. Live music. Contact 396-0593.
9am to 12:30pm, May to October. 200 block of Bedford in Hamilton. Local farm products & crafts, live music, friendly folks. Contact hfmc844@gmail.com or (406)961-0004
8:30 to 1pm; starts May 23 and runs through October 3. West Park Street, Uptown Butte.
Saturdays, May 4 to Oct 12, 9-12:30 pm, at Flathead Valley Community College
Missoula Winter Public Market–November to April
Local farm products, baked goods, arts & crafts, music. New Location: Southgate Mall (former Lucky's Market). 9am to 2pm, Saturdays (Nov – April) . More info: 406-396-0593, or missoulawinterpublicmarket@gmail.com
OTHER EVENTS
Part of Missoula's Open Space System, Saturdays from 11 am-5 pm, from May through October (fire danger and weather permitting). Visitors can picnic in the apple orchard, check out funky artifacts, take an historic tour or nap under the trees.
Workshops, many Saturdays. List of MUD workshops
Volunteer workdays last Saturday of each month from 10am to 2pm.
Field trips many Saturdays. More info: Contact Larry at 549-5632 or bwsgenea@gmail.com

Tours some Saturdays (weather permitting) 9am to noon.
Sunday
Coming
Monday
Missoula Conservation District —
Regulates projects that disturb streams; undertakes conservation projects (including education & restoration work). WHEN: 2nd Monday of each month, 7-9pm.
Returning to IN-PERSON meetings in July 2021. Office & meeting location: USDA Service Center at 3550 Mullan Road, suite 106 (just west of the intersection of Mullan Road & Reserve). For meeting agenda, email jackie.vitas@macdnet.org or call 303-3427.
Past meeting minutes
. .
Tuesday
Wednesday
Big Sky Passenger Rail Authority
meets second Wednesday of each month, 11:30 am to 12:30 pm, via Microsoft Teams. Upcoming meeting links at bigskyrail.org/events. Agendas/minutes, at bigskyrail.org/meeting-documents
Thursday
NEW Farmers Market opens at Orchard Homes in Missoula.
Thursdays from 4:30 -7pm (starting on June 17) at 2537 S 3rd W. More info,
email the market here.
Friday
Upper Missouri
Lower Missouri
Yellowstone And Little Missouri