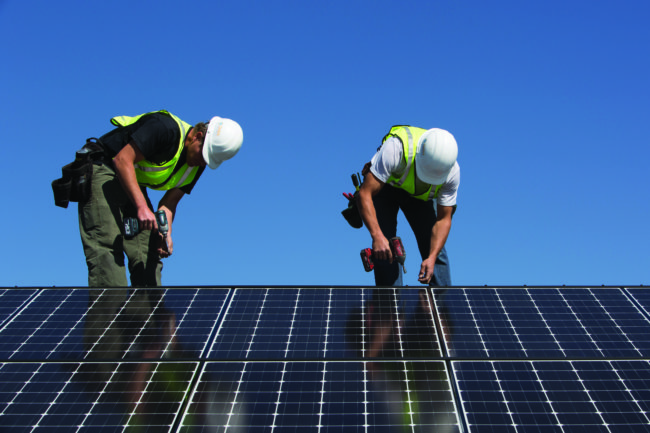 November 26, 2019
By Brian Fadie, MEIC Clean Energy Program Director
At a time when so much in the news can get you down, November 25th was a giant ray of sunshine.
With a 5-0 vote, the Montana Public Service Commission (PSC) outright rejected NorthWestern Energy's attack on rooftop solar. It was a BIG win for Montana's solar jobs and clean energy future and another rebuke of this monopoly, for-profit utility's attempt to block rooftop solar.
This vote was years in the making and it truly was "The Power of the People" that helped make the victory happen.
THANK YOU!
Every time the public has turned out for event after event, over years and years, to stand up for solar, it put another brick in a wall of support that NorthWestern ultimately couldn't knock down.
If NorthWestern's proposal had been approved, Montana's rooftop solar sector would have been put on life support. It was truly an extreme proposal with hefty, unwarranted fees and rule changes targeted only at those who wanted to spend their own money to put solar panels on their roof. Long story short: it could have been more expensive to be a NorthWestern customer with solar panels on your roof than a regular electricity customer who generates no electricity (see here for a detailed description).
Thankfully, NorthWestern's proposal was rejected.
It's worth remembering this is the second time in 2019 NorthWestern's extreme behavior has been rejected. Earlier this year the company put its full weight behind bills at the legislature to bypass PSC oversight and force its customers to buy more expensive and dirty coal energy from Colstrip (and take on the untold millions in cleanup liabilities). It was a shameless money grab that also saw Montanans from across the state rise up and emphatically say "No!"
Thankfully, it was rejected as well.
For those keeping score at home, that's:
NorthWestern's extreme behavior: 0
Power of the People: 2
Not bad! And again, thank you!
Now it's time to make it a clean sweep.
NorthWestern recently issued a 20-year "Resource Plan." Unfortunately, it's quite extreme too. At a time when almost every other utility in the West is adding hundreds of megawatts of renewable energy, NorthWestern's plan calls for none. Zero. Zilch. Instead, the company only wants to build hundreds of megawatts of expensive fracked gas plants, putting ratepayers and the planet alike at risk.
The PSC is taking comments on the Resource Plan right now. It's time for "The Power of the People!"
Click here to submit comments – MEIC's tool makes it quick and easy!
Want to do more?
If you're not already, please consider becoming an MEIC member today. We are a membership-based organization with thousands of members across Montana. We get most our funding from our members, allowing us to take the strong positions that need to be taken in order to avert climate disaster.
We will keep you informed and alert for opportunities to make a difference – and keep the wins coming.
Happy Thanksgiving!