Montana Renewable Energy Projects
Montana has an abundance of wind, solar, and other clean, renewable resources. In fact, there is enough Montana wind energy potential to meet our own energy needs 70 times over and meet 29% of the United States's electricity needs. There are several existing Montana renewable energy projects, others that are under construction, and many more that are proposed for future development. See the PDF below for existing and planned Montana wind energy projects across the state.
Montana Wind Energy Projects – 2011
Montana Renewable Energy Projects: Judith Gap Wind Farm
Judith Gap Wind farm is Montana's first commercial-scale wind project. The 135- megawatt facility is located in Wheatland County between Harlowton and Judith Gap. In 2006, NorthWestern Energy began purchasing power from Judith Gap through a 20-year contract with Invenergy, the facility's owner.
The project provides about 8% of NorthWestern Energy's electricity needs, a significant step towards obtaining 15% renewable energy by 2015 required by Montana's Renewable Energy Standard.
Judith Gap is not only clean, but it has proven to be a low-cost resource. In fact, the total cost of power from the facility (including wind integration and firming costs) is cheaper than any alternative available to NorthWestern (excluding energy efficiency and conservation). See the graph below, by the Montana Public Service Commission: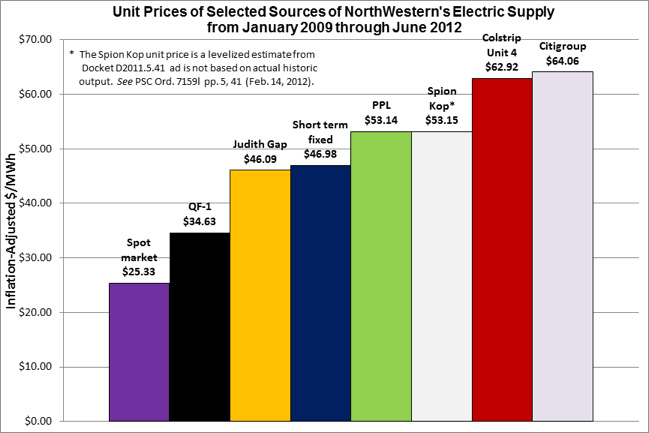 Montana Renewable Energy Projects: Turnbull Hydro, LLC.
The Turnbull Hydro facility harnesses energy from water flowing down irrigation canals. The facility is located in Teton County near Fairfield, Montana and will produce 13 megawatts of renewable hydropower. In 2009, NorthWestern Energy signed a contract to purchase power from this facility. Turnbull will operate four months out of the year at the peak of irrigation season from mid-May through mid-September. Power from the project will help NorthWestern Energy meet the Renewable Energy Standard.
Montana Renewable Energy Projects: Spion Kop Wind Farm
Spion Kop is a proposed wind generation facility in Cascade County near Raynesford, Montana. NorthWestern Energy recently received pre-approval from the Montana Public Service Commission to purchase Spion Kop from Colorado-based Compass Wind. When it is built, the 40-megawatt facility will be the largest wind generation facility owned directly by a Montana utility. Utility ownership is important particularly with renewable energy projects because it provides long-term certainty and reduced cost impacts for ratepayers. PSC staff determined that Spion Kop would be a low-cost energy resource and wind power from the facility would be on par with the costs associated with the Judith Gap facility.