1. Protect Utility Customers: Stop The NorthWestern Energy Blank Check Bill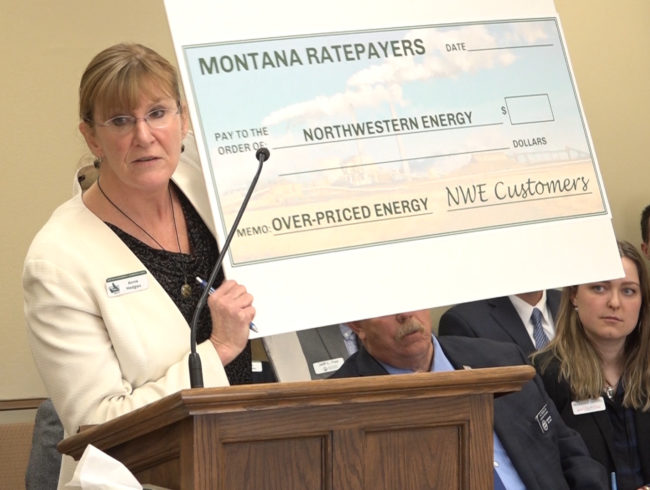 SB 278, by Sen. Richmond (R-Billings), would require NorthWestern Energy customers to write a blank check to the monopoly utility. This outrageous bill would require the PSC to approve all of NWE's Colstrip related costs for its existing 220 megawatt share of the plant, to pass on any and all costs for the purchase of the transmission system (for whatever amount NWE wants), and to pass on all costs for any future increased ownership in the plant to its customers. SB 278 ties the PSC's hands and requires it to approve any costs NWE wants and provide it with a guaranteed profit margin on top of many of those cost regardless of whether it's prudent or harms customers. Don't let NWE pick your pocket.
SB 278 currently awaits a vote in the Senate Finance and Claims Committee.
To Do List:
Call Governor Steve Bullock at (406) 444-3111 and ask that he oppose
Call the Montana Public Service Commission at (406) 444-6199 and ask the commissioners to oppose
2. Yet Another NorthWestern Give-Away: Monopolies NEED Oversight
SB 199, again by Sen. Richmond (R-Billings), is a bait-and-switch bill by NorthWestern Energy, a monopoly utility.
SB 199 is purely about removing Public Service Commission oversight from utility expenses. It exposes consumers to higher rates for the sake of utility company profits. The bill has been misrepresented as having to do with "Qualifying Facilities" (QF's) or a "symmetry" issue at the Public Service Commission. This is grossly wrong.The bill has nothing to do with equal treatment between utilities and independent power producers.
Utility customers are captive customers – they can't go anywhere else. The whole point of having a PSC is to be a check on a for-profit, monopoly company from abusing its monopoly power. SB 199 ties the hands of the PSC from providing oversight of utility expenses–it keeps the PSC from doing its job.
SB 199 has a hearing in the House Federal Relations, Energy, and Technology Committee on Friday, March 15th in Room 472.
To Do List:
Call Governor Bullock at (406) 444-3111 and ask him to oppose SB 199
Please come to the hearing and provide short, concise testimony making it clear that a future without regulatory oversight of monopoly utilities is not good for NorthWestern ratepayers.
3. Stand Up for Water Quality Standards!
HB 625, by Rep. Bill Mercer (R-Billings), seeks to eliminate the numeric nutrient standards under Montana's water quality act. Nutrients are one of the leading causes of water quality impairment in Montana's rivers, streams, and lakes. Because of the extensive impacts associated with nutrients, the U.S. Environmental Protection Agency (EPA) developed nutrient water quality criteria. Montana's nutrient standards were adopted and approved in 2015 by the EPA. Montana is obligated to combat nutrient pollution through nutrient standards, and any attempt to repeal the standards is not in conformity with the U.S. Clean Water Act.
HB 625 awaits a hearing in the Senate Natural Resources Committee.
To Do List:
4. Mark Your Calendar for The 2nd Conservation Community Lobby Day
The legislature changed its schedule, so the 2nd Community Conservation Lobby Day was rescheduled from March 8th to March 22nd. We're sorry for any confusion, and thank you for your understanding and flexibility!
We'll start the day with a citizen lobby training session from 9:30 to 11:30 AM at the Lewis and Clark Public Library in Downtown Helena, March 22nd at 9:30 AM. You'll receive an exclusive training from policy experts from a wide range of conservation fields.
The training will consist of a crash course in lobbying and a briefing on current priority issues. Then, we'll head to the Capitol to meet with legislators and participate in committee hearings from 12:00 to 5:00 PM (or whenever you need to leave).
Your one-on-one conversations with legislators can make the difference on what bills pass and do not pass, so please consider attending!